Ropeace are not conventional sandals.
They are loyal companions through everyday life and ensure that you can discover new places comfortably and safely.
It doesn't matter whether you're on a shopping trip, dancing the night away, strolling through cosmopolitan cities or just letting your legs dangle:
Ropeace open up new paths for you and accompany you on your adventures.
The hand-braided straps made of soft nylon not only caress the foot, they also fit right from the start
the individual foot shape. They don't lose their grip and immediately offer a comfortable walking experience - as light as barefoot!
Various color and braiding arrangements can be found in over 90 different models.
In addition, thanks to the intelligent arrangement of the laces, each shoe can be flexibly adjusted at up to 12 knots.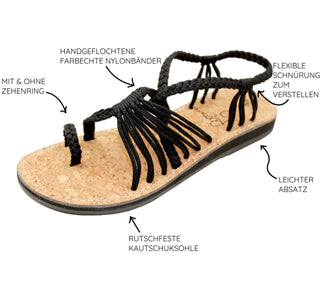 The advantages at a glance:
Comfy
Sole made of resilient rubber for good walking and stepping resistance
Vegan materials
Shoe insole made of imitation leather or cork
Water compatible
Colorfast non-marking straps and synthetic leather insole
what does that mean,
flexible lacing?
Very easily! Each pair of Ropeace can be adjusted on the three back side straps. With a little force you can pull the straps apart at the knots and get more support and pressure around the heel, for example.
Our lacing
Ropeace is available in 10 different lacings + flip-flop model.
Each lacing is suitable for a different foot shape or accommodates it.
Here you have a small overview of the lacing including a description of the fit.
If you still need help, please reach out to us using the contact form.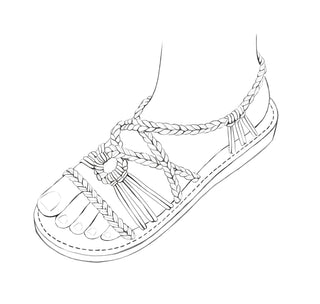 Classic
The classic Ropeace lacing features holding straps on both sides, central loop and single strap running over the toe. The straps on the highest point of the instep give you good support when running, dancing and strolling. Particularly suitable if you want to hide your toes with a decorative ribbon.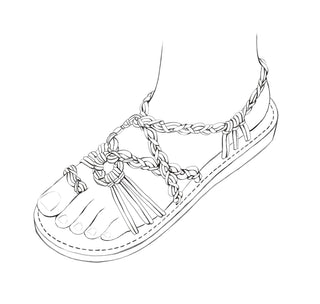 Classic with toe
If you have reservations about flip-flops but still need support when walking, this model is recommended! Because the big toe is only wrapped around by the toe strap and the main point of pressure while walking is not in the toe groove, this ropeace is one of the most convenient and comfortable models.

Perfect fit
Designed like the classic Ropeace, except that there is no single strap running over the toes. One of our most popular lacings and a perfect fit
Criss-Cross
This model is particularly suitable for narrow-cut feet. The crossed toe lacing gives you perfect support.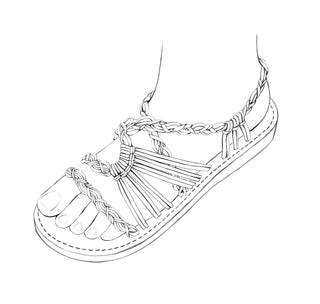 Asymmetrical
The middle loop is omitted here to give a possible hallux more space. The model is available with a toe strap that runs completely over the toes or that wraps around the big toe.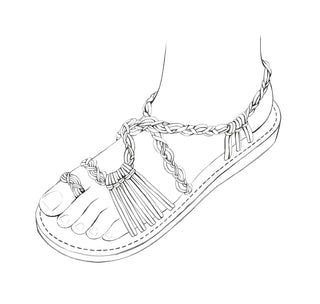 Asymmetrical with toe
Just like the symmetrical lacing with the toe, the front toe band provides additional support for all activities, whether cycling, dancing or walking. The asymmetrical cut leaves room for
a possible hallux or a slightly wider foot.

S
Simple but effective - Unlike all other Ropeaces, this model consists of a single strap that wraps beautifully around your foot in an "S" with side straps. For all feet that like it airy and need freedom.

Easy
This model looks very noble due to its few straps. Since that
reinforcing rear cross is omitted, this ropeace is special
suitable for women with a high instep who want more freedom of movement. If you are half a shoe size, it is advisable to choose the model in the smaller size, so that the straps fit well.
Because of the many side bands, Easy is particularly suitable for concealing a slight hallux.
Lace me up!
As the title suggests, a tie-up design. Finished with a supportive toe strap at the front. The additional rear laces can be tied into a nice bow, so this lacing is suitable for almost all foot types and you can adjust the support individually.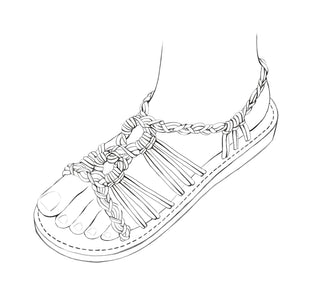 Infinity
The entire foot is framed and held by cords due to the two loops that run one above the other, with which this model is equipped. By doubling the reinforcing side straps you have a lot of support and fixation. Not necessarily suitable for wearers with a very high instep.